Welcome to Eagle Rock lodge. We are a family-owned lodge on Prince of Wales Island. We offer fishing and hunting opportunities from our waterfront lodge located just south of Craig, Alaska. The pristine waters around Prince of Wales Island are home to some of the best salmon and bottom fishing around.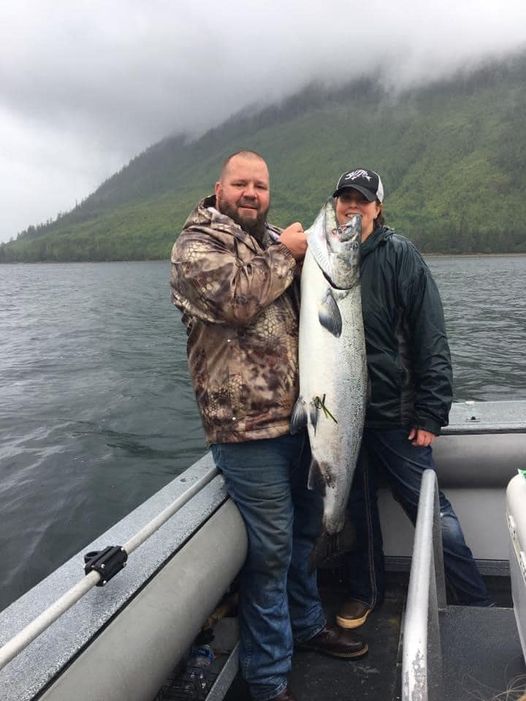 Here in Southeast Alaska, king salmon fishing starts in early June and peaks the middle of July and stays strong throughout the summer. Silver salmon fishing starts around the beginning of July and runs through the end of August. With the largest silver salmon hatchery in Alaska the fish are coming back here not just passing through. The silver salmon hatchery is in Klawock, Alaska, an approximately fifteen-minute drive from the lodge and offers great river fishing in the months of September and October.
On top of salmon fishing, the local halibut grounds are located throughout our waterway and hold an abundance of fish. We travel as far as possible to get you to the best fish we can find. When the weather doesn't allow it, we have spots protected by islands on the inside. Ling cod are targeted while we are catching sea bass and are often caught while halibut fishing.
Sightseeing is in abundance here on the Island. Each day while traveling to and from the fishing grounds, you will encounter the vast wildlife of Southeast Alaska. Whether it be humpback whales traveling alongside your boat, pods of orcas, sea otters, or bald eagles as far as the eye can see, the backdrop to your fishing experience is second to none.
Getting Here
Eagle Rock Lodge is located in Craig, Alaska on Prince of Wales Island, situated just 60 miles west of Ketchikan. We recommend travel to Ketchikan via Alaska Airlines. While Delta Airlines does offer flights during the summer months, occasional travel delays (typically resulting from weather) do occur and your ability to reschedule may be somewhat limited.
Once you have arrived in Ketchikan, we recommend Island Air Express as transport between Ketchikan and Prince of Wales Island (Klawock, where our Island airport is situated). Upon arrival in Klawock, you will be welcomed by either Kristi or Jeff to the Island, and transported to our beautiful lodge.

Eagle Rock Lodge is Filling up for our 2024 summer season!
2024 FISHING PACKAGES INCLUDE:
Four nights lodging – Our lodge is located just south of Craig, Ak and provides a spectacular view of the water with our dock just a board walk away!
Three days fishing – Fishing is the star of the show! Our boat is a custom build 40' Motion Marine charter boat equipped with suspension seats, heat, first class electronics & a happy captain!
All meals – Food is the fuel for a great day of angling. Our guests are treated with sit down breakfast and dinners, appetizers, lunch and spectacular deserts.
Transportation – Upon booking we will need your flight information. This allows for us to greet you at the Klawock airport and schedule outbound shipping of your catch. (air fair is not included)
Package Price is $3,500
When you return from the day's fishing, the fish are filleted and vacuum packed to your specifications and quickly frozen for pristine preservation. On the day of your departure your fish will be boxed in airline approved boxes for your return trip home. Two fish boxes are included in your package price.
Not included in your fishing package:
-Airfare to Ketchikan and Prince of Wales island
-Fishing License
-Alcoholic beverages
-Gratuities
Gratuities are customary for the lodge crew and normally average 10% of your package price. However, tips are dependent on your satisfaction with the service provided and are at each individual's discretion. An amount you are comfortable with will be appreciated by the crew.
Rates: 4 nights/3 days fishing $3,500.00 per person.
Due to high demand for space, a 50% deposit is due upon booking. If you cancel by February 1, 2023 you may receive a refund of $1100. Full payment will be due upon arrival at Eagle Rock Lodge.
Thank you!
Location: 4.25 miles, Port St Nicholas Rd. Box 963 Craig, AK 99921
Email [email protected], call (907) 401-3557, or DM us on Facebook to contact us!